Part 3 - My Story…The Tale of a Good Samaritan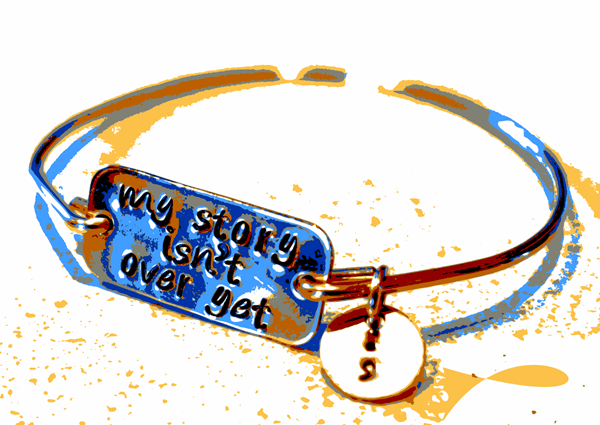 My Dance with Death…
If you would see me today, you would never imagine me as a person who had tried to take her own life. That's the point. According to the National Mental Health Association, a 2000 study conducted by researchers at Johns Hopkins University found that approximately 25 to 50 percent of patients with bipolar attempt suicide at least once  (1).
I will always regret that my family was not educated about my mental illness sooner. Now that I am in recovery, I can rationally understand how life gets busy. But just like my psychologist explained, I was sitting in that pit with my entire psychological house broken into a thousand pieces during that time. I was confused, having difficulty focusing; I felt overwhelmed, vulnerable and afraid. As I watched them seemingly walk blithely away saying, "I'll be praying for you! Call me if you need anything!" I reached up my arm to stop them but my wrist was missing pieces. I cried for help, but hadn't put my mouth together yet. I remember endless days of feeling so lonely that it ached in my bones - my foundation crumbling from beneath me. Luckily, a Good Samaritan came along.
My Attempt
After a year and a half, my addled brain had it all worked out: my husband would get a new wife, my son would get a mom that wasn't sick all the time; and I would be out of pain. It was impulsive, and unsuccessful. As I lay gazing at the ceiling still alive, I felt like my belief system had painted me into this corner of suicide as the only option. I had to throw out everything and begin anew to allow myself to survive.
For the most part, I did. Determination fueled my actions to go back to work and prove myself. I did. Yet from then on, death's quiet siren voice was always singing in my ears. I was especially vulnerable when I was tired, depressed and emotionally exhausted. I found myself evaluating telephone poles, but like most women, I could not seriously consider a painful end.
Good Samaritan
It wasn't until life tossed me into another emotional tar pit of hopelessness, did I seriously consider to stop struggling. I almost did. It was a perfect storm. My close circles of friends were unavailable: I had been crying uncontrollably for days. But, I happened to catch the ankle of an outsider. I hoped he would pull me out, but he did so much more. My Good Samaritan helped me out, pulled me up, brushed off my clothes, looked at me and said, "This, in no way, diminishes you in my eyes". No one had ever said that to me before.
Mantle of Shame Called "Crazy"
Let me explain. When you step off that psych ward, it's as if a red velvet, weighted mantle appears on your shoulders, you slump as it weighs you down. On the mantle in black letters are the words, "batty, crackpot, insane, cuckoo, demented, deranged, nuts, kooky, loony, lunatic, mad, maniac, psycho, psychotic, screwy, wacko, delirious, delusional, disturbed, neurotic, paranoid, sociopath, strange; witless; irrational, unreasonable; bananas, berserk, frantic, frenzied, haywire, hysterical, raving, wigged-out; fixated, monomaniacal, obsessed," etc. The clasp is silver engraved with the word, "crazy" on it. Every new person off the psych ward that comes to support group says, "I guess I am one of the crazies now". As a woman, I felt neutered. What man could want a crazy woman? Like Hester Prynne (in The Scarlet Letter ), I psychologically wore it everywhere, apologizing for taking up space and breathing air.
The Good Samaritan spoke truth to me: I was not less than human. After hearing those words, psychologically I was able to unclasp that mantle and let it drop. I could straighten my shoulders; look him in the eye and smile. I would not be defined by my mental health condition. My life, I called a goat's path on a mountain, awaited me but I would never give up. I determined life may knock me down again, but I choose not to stay down. Since they finally got my medications right, I have never had a suicidal thought.
My Story Isn't Over
Every movement has a symbol for its followers to rally around and be encouraged by fellow believers. For me and many folks like me, it is the semicolon. A semicolon is used when an author could've ended a sentence but chose not to. You are the author and the sentence is your life. Project ";" your story is not over yet. (2) I choose to continue my story, each and every day. Stigmafree#
Why I Am Telling You My Story
Patrick Kennedy released his own personal journey, A Common Struggle, despite the disapproval of the Kennedy family(3). I feel compelled to stand with him and share my "ugly scar of humanity." Famous people like Patrick Kennedy get the attention of the entire nation. However, one in five Americans struggles with a mental illness. I need you to realize that people like me are all around you. "I" may be your stay-at-home mom neighbor, sit next to you in a cube at work, or your drinking buddy on Friday nights. Don't let anyone suffer in silence.
My family reacted as any normal American family would. This is why the suicide rate jumped 24% from 1999 to 2014, according to the Centers for Disease Control and Prevention(4). For those of you that are dealing with someone in denial about a mental illness, I know you are mentally, emotionally, physically, and psychologically exhausted. You also have a lot of anger, resentment, and disdain towards that person. Understandably so! If you are educated on mental illness, you will be better equipped to handle this roller-coaster ride that is your life. You will have supportive individuals with whom you can share, commiserate, discuss, and rely upon. Get educated - not only for your loved ones, but for yourself.
Be a Good Samaritan
I am not asking you to be a normal American family: I am asking you to be a Good Samaritan. Get educated. Save a life. So that if someone you care about develops a mental illness - or shares that they suffer - you can be the family, you can be that friend, that crawls down into their pit wielding a lantern, bringing a cot, a tent, and supplies. While your loved one is busy rebuilding themselves, you can be building a ladder so they when they are ready to restart that journey, they won't have to do it alone. 
Thank you for spending your valuable time on such an important topic. If you have any additional questions, comments or feedback, please contact me directly by clicking here.
References