The Mental Health Benefits of Spending Time Outdoors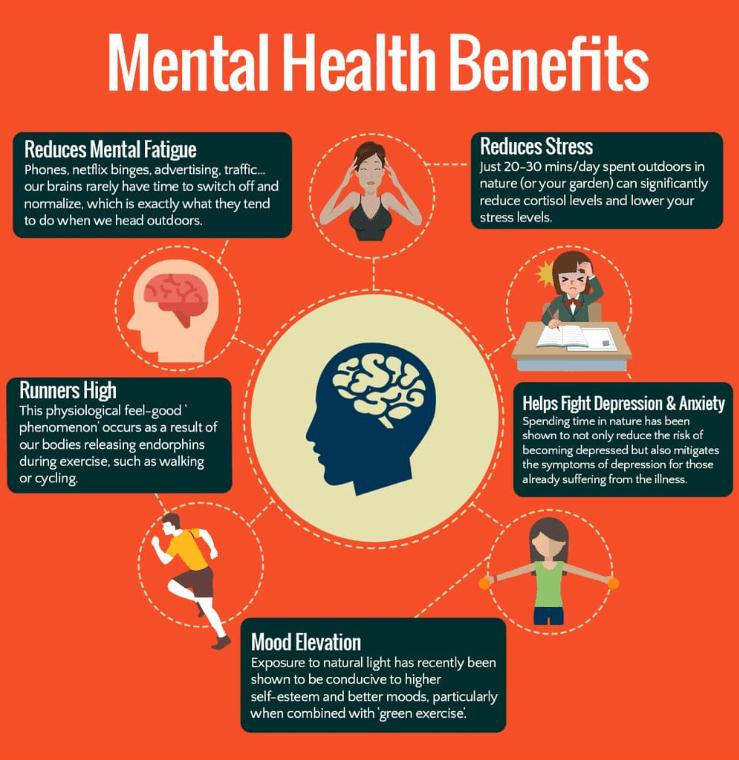 A cloudy weekend invites you to stay indoors, wrapped in your favorite flannel pajamas. While it might be comforting to wallow in bed and binge-watch your favorite soap opera from 10 years ago, there is a better way. Face it, we are all a bit lazy on the weekends, falling back into old and comfortable habits.
Break out of those old habits and face the sun. Scientists are finding that spending time outdoors can give your mental health a well-deserved boost. You'll surprise yourself with the fun you'll have. So, dress well, pull on your boots, and see if you don't find these benefits within just a few hours.
There are places in every corner of the world that offer splendid scenery, great exercise opportunities, and fun for people of all ages. Don't worry if you can't climb a rock face or bike for 26 miles; there's activity for persons with any ability. There are many benefits for persons from five to ninety-five.
Five Mental Health Benefits of Spending Time in Nature
Being outdoors can reduce your stress levels.
Reduced stress can enhance your ability to be more creative and think in more imaginative ways. When your body is strolling through a forest or a meadow, tension and anxiety fall away. Researchers in Holland and Japan have found that as little as 20-30 mins exposure to nature a day can significantly reduce cortisol levels 1, 2.
Natural light and fresh air can boost your mood.
Sunlight can fill your body and mind with a feeling of well-being. Various studies 3, 4, 5 have shown that exposure to natural light can help improve your mood and improve your self-esteem. Mother Nature's outdoor playground is the perfect antidote to a blue mood.
Give your mind a rest.
If you've had a tough week at work or with the kids, outdoor activities can let your mind normalize and declutter 6, 7, 8. Let your body take over and move in ways it hasn't for quite a while. Just stopping thinking so hard for a few hours can rejuvenate your brain.
Exercise, anyone?
The runner's high isn't a fantasy 9. Hiking, climbing or running along outdoor trails can make your body feel revitalized. There's no need to break speed or endurance records, just moving at a steady pace for a half hour or so can make you feel like you've been on vacation. If you have an exercise routine, you perform every morning at home, switch it up. Perform the same routine trailside. Biking is a wonderful exercise tailor-made for the outdoors.
Help Fight Depression & Anxiety
Many of the most conclusive studies 10, 11, 12, 13 of the effects of nature on our mental health are those surrounding its ability to help depression and anxiety. Researchers at Stanford noted that participants who spend time in nature showed less neural activity in the part of the brain associated with depression compared to their urban counterparts.
How to Get Out There
Once you've discovered how much you are benefiting from getting outdoors, make it a regular habit. Take some friends along on your next trek. Add a healthy picnic lunch, and you'll all want to make it a recurring date. How about a romantic date? A bike trip through a national park is a beautiful way to have that first date. You say something meaningful about yourself when you'd rather bike through nature than spend your time in a tavern.
There are meet-ups and other informal clubs whose members regularly meet to take a turn outdoors. You'll meet interesting people and keep yourself in shape, both physically and mentally. Even if you spend time outdoors by yourself, you'll find an hour or two with nature is just what you need.
For further information on the boons spending time in the outdoors can bestow on you, visit the original article The 19 Physical & Mental Benefits of Spending Time Outdoors.